Air Conditioning Installation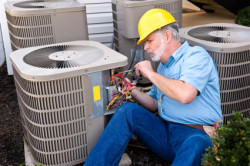 If you only make one property improvement this year, make it central air installation. You don't want to spend the entire summer feeling miserable from the heat, and with the help of Home Pro's Heating & Cooling, you'll be investing in the long-term comfort and efficiency of your home or small business. Whether this is your first central air conditioner installation or you need to replace a system that's too far gone to fix, don't hesitate to contact our air conditioning installers. We'll put our more than two decades of experience to work, so you can enjoy cool, refreshing AC for many years to come!
Locally owned and operated, Home Pro's Heating & Cooling is an excellent choice to be your Mooresville-area air conditioner installer. On top of 20+ years in the industry, our certified technicians offer 24/7 sales and service for brands from A to Z. While window units and fans are fine for small spaces, they can hardly compete with the whole-house circulation and temperature control of central air. Trust our team to make your money go further, with a central air conditioner installation tailored to suit your space as well as your budget.
Come the dog days of July, you'll be thrilled to have the superior cooling capability of a central air conditioning installation. Take this opportunity today to get in on the many benefits of our air conditioning installation services, including:
Enhanced air quality
Lower humidity
Healthier indoor air
Reduced allergy problems
Increased property value
And more!
In addition to central AC systems, our air conditioning installers also specialize in mini-split systems for Mooresville-area property owners. Contact Home Pro's Heating & Cooling if you have spaces where central air installation may not work. Our ductless mini splits are a great alternative to central air conditioner installation when retrofitting properties. Feel free to contact us with any questions about the best air conditioning installation for you!
Small Business Central Air Installation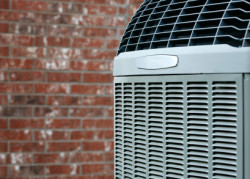 As a small business owner, you're responsible for providing a safe, healthy environment for employees and customers. That can be difficult to do without central air creating pleasant indoor conditions. When you're in need of air conditioning installers for your commercial establishment, look no further than Home Pro's Heating & Cooling. We extend our air conditioning installation services to include residential central AC systems for offices and other nearby small businesses. We even run background checks and drug tests on all of our air conditioning installers, giving you one more reason to make us your top choice for local air conditioning installation.
Ensure long-lasting protection for your new central air installation. Depending on what brand you pick, you could get a manufacturer's warranty good for the lifetime of your system. Call us today for details!
installing air conditioning
air conditioning contractors
central air conditioning