Heat Pump Repair
Your heat pump works year-round to transfer warm air out of your house in the summer and into your house in the winter. But just like furnaces and central air conditioners, these heating and cooling systems can run into trouble from time to time. If you're surfing the Internet for a heat pump repair service in the Mooresville area, you couldn't ask for a better search result than Home Pro's Heating & Cooling. With certified technicians and more than 20 years of experience, we have the training and strategies to meet pretty much all your heat pump repair or replace needs. Take the next step today toward quick, accurate heat pump repair service: Call us at your convenience!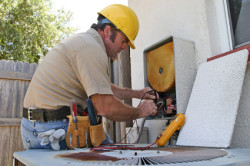 No problem is ever too large or too small for our HVAC specialists. We're able to assist with a long list of heat pump repairs, including:
Inadequate heating
Insufficient cooling
Uneven temperatures
Frequent on/off cycling
Continuous blowing
Unpleasant odors
Strange noises
Not starting at all
And other operational issues!
What's more, we don't discriminate against certain brands when it comes to heat pump repair service. Whether you need Trane heat pump repair or Goodman heat pump repair, Home Pro's Heating & Cooling is well equipped with the specialized expertise to make the proper adjustments. As a local, family-owned company, we're dedicated to doing whatever we can to address your heat pump repairs in the most economical and efficient way possible. Whether you need us for heat pump repair or to replace an old, worn-out unit, you can depend on our licensed and insured professionals to do a stand-up job!
Reliable Heat Pump Installation
At Home Pro's Heating & Cooling, we go the distance to be your one-stop heat pump service provider. That means, in addition to having the answers for your home and small business heat pump repairs, we're available to tackle your heat pump installation services. For new and replacement systems alike, you're sure to appreciate the honest prices and trustworthy treatment of our heat pump installers. In Mooresville and the surrounding vicinity, our heat pump installation rates are some of the lowest you'll find. Best of all, every single one of our new heat pump installations comes with the full backing of the manufacturer's warranty. We wouldn't want you to settle for anything less!
Whether you're seeking professionals to repair a heat pump or install a heat pump, the answer is one and the same. Call or e-mail Home Pro's Heating & Cooling today for your full-service heat pumps installation or repairs. You'll be glad you did!
air heat pump
heat pump
air conditioner heat pump