Mini Split AC Systems
Most people are familiar with central air conditioning and stand-alone AC units. But what you may not know is that mini-split systems can be an affordable and efficient way to cool your Mooresville-area property. As a certified installer for mini-split air conditioning, Home Pro's Heating & Cooling is proud to be your full-service provider for mini-split systems, ductless minis, and even PTAC units for local schools. If you're looking for a versatile, easy-to-install answer for indoor air comfort, contact us today about a mini-split system for your residential or light commercial space. We're open 24/7 to help!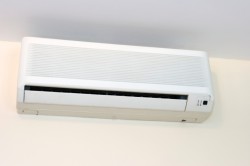 Why spend money to cool unoccupied spaces when Home Pro's Heating & Cooling can customize a split AC system to fit your specific needs? Call us today to discover all the advantages of a ductless mini-split system, including:
Quick installation
Flexible placement
Quiet operation
Less wasted energy
Sleek styling
And more!
Bigger isn't always better. Thanks to their compact size and ductless design, mini-split systems are ideal for home additions, hard-to-cool areas, or anywhere you want zoned air conditioning for greater efficiency and temperature control. With a mini-split system from Home Pro's Heating & Cooling, a single outdoor compressor can connect with as many as four indoor air handlers, making it easy to conserve energy and target only those spaces where cooling is desired. And since each indoor unit has a separate thermostat, our ductless mini splits allow you to set your comfort levels on a room-by-room basis.
Another beneficial feature of split air conditioning systems is their diversity of models. Depending on the layout of your rooms, Home Pro's Heating & Cooling can situate the indoor units of your split system air conditioning on a wall, near a ceiling, or standing on a floor. The outdoor units also offer greater flexibility in terms of placement, allowing you to conceal the outside component of your split AC system in the most preferential spot possible.
Full-Service Split Air Conditioning
At Home Pro's Heating & Cooling, we're one of the few HVAC companies in the Mooresville area that offers comprehensive services in energy-efficient ductless mini-splits. In addition to new installs and replacement systems, we're also your go-to source for reliable repairs and seasonal maintenance. Leave it to our team to correctly size your mini-split system, select the optimal location, and keep it working at peak capacity. To make an appointment for your split air conditioning service, just give us a call today!
PTAC Mini-Split Systems
For school facilities, our packaged terminal air conditioners, or PTAC mini-split systems, are an excellent choice for keeping students and staff comfortable in a controlled, efficient manner. If you're interested in split system air conditioning for your school, or you need service for your existing PTAC system, contact Home Pro's Heating & Cooling as soon as possible. We work with almost all brands of split air conditioning systems, and we can install the PTAC system that's right for your area school.
Mini Split System
Split System Air Conditioning
Mini Split Systems
Split AC System